Hotel Review: Hotel Rosenlaui, Bernese Oberland, Switzerland
With no Wi-Fi, mobile phone signal, TV or radio, porcelain jugs instead of running water in the bedrooms and shared toilets and bathrooms, Hotel Rosenlaui in the heart of the Swiss Alps is the perfect place for those who truly want to get away from it all. Think of it as the ideal destination for a full digital detox.
Located in the smallest village in Switzerland beside the picturesque Rychenbach River, the site of this delightful Belle Epoque hotel has proved a wonderful getaway for travellers since 1771. In that year, a local farmer opened a hut for the ailing and infirm after discovering that the waters of the Rychenbach had healing properties when they cured an
infection on his wife's leg.
Hotel Rosenlaui feels as if it is in the middle of nowhere – in a good way – and that tranquillity has proved inspirational to many writers, including Sir Arthur Conan Doyle, Johann Goethe, Leo Tolstoy, Mark Twain and Friedrich Nietzsche.
A few miles by the free postbus from the pretty village of Meiringen in the Bernese Oberland region, the hotel had a profound effect on all the authors who stayed there. For instance, in 1857 Tolstoy was traumatised by the sight of a young man being executed by the guillotine in Paris. Constantly haunted by the image, he was unable to sleep. On the advice of a friend, the Russian writer went to stay at Hotel Rosenlaui in order to recover his equilibrium.
Like Tolstoy, you may well find that this beautiful and secluded hotel furnishes you with all the therapeutic quiet you could ever wish for.
Who for
Due to its remoteness, Hotel Rosenlaui predominantly attracts tourists. Underlining its popularity, you have to book a room in the hotel several months in advance. It also has an enormous amount of repeat business. Many guests have been coming here for more than 20 years and have built up a strong relationship with the Kehrli family, who have run the hotel since 1953.
A peaceful aura is also maintained by the ban on photography inside the hotel. Mobiles and laptops are also forbidden in the public areas of Hotel Rosenlaui.
Accommodation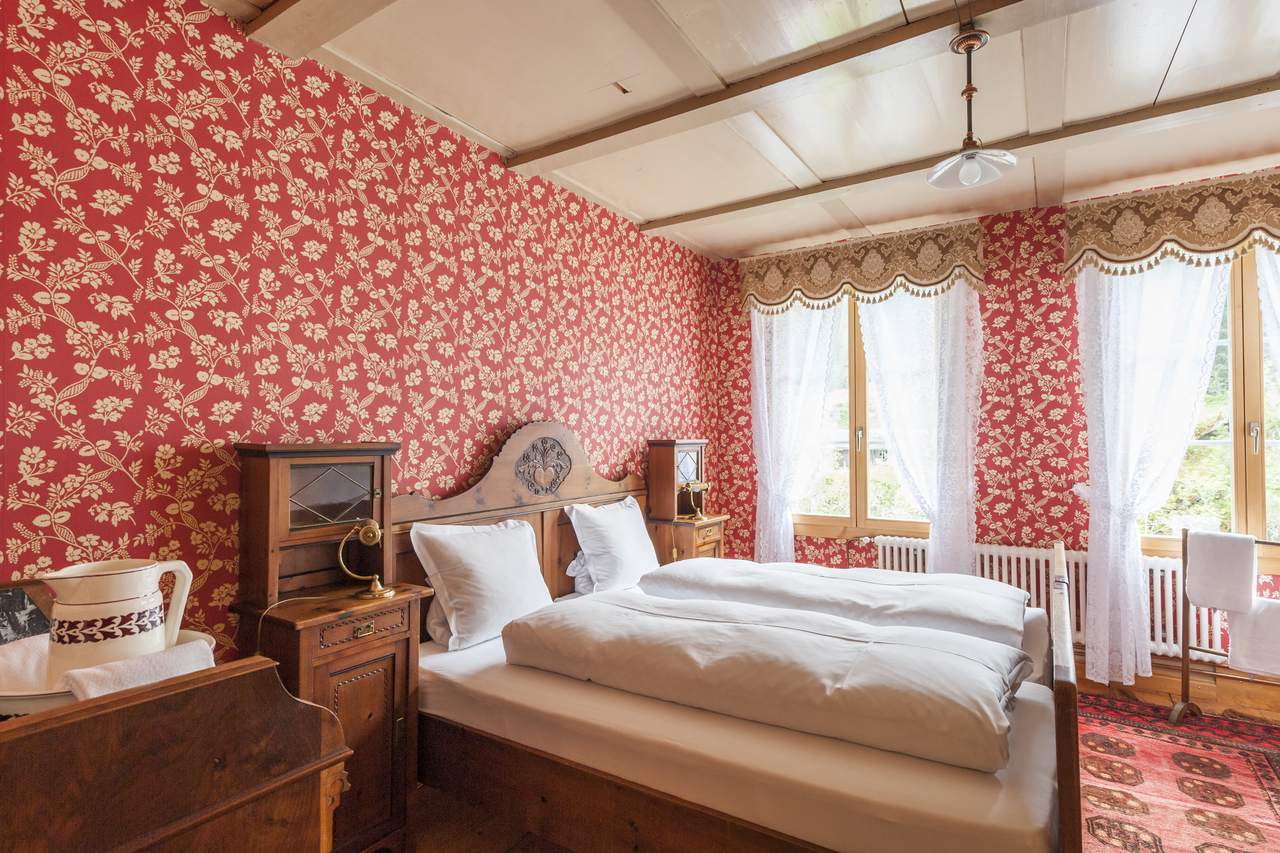 Food and Drink
It is worth eating at Hotel Rosenlaui just to experience the old-world elegance of the dining room. The fact that the food is also delicious is a lovely bonus.
The hearty lunchtime "Goethe Platter" – comprising three kinds of local cheese, different breads and fruit paired with a baked potato and a bowl of vegetable soup – comes highly recommended.
Every Tuesday, the hotel holds a "Soirée." At this evening for bons viveurs, diners are treated to a local Bernese Oberland cultural event, such as a group of yodellers or Alpine horn players, accompanied by a splendid meal.
Facilities
Those searching for a swish spa or an Olympic-sized swimming pool at Hotel Rosenlaui should look elsewhere. The beauty of this place is that it encourages you to connect with the breath-taking Alpine environment.
How much
Room rates start at CHF 125 per person per night and include the evening meal and bus ticket. To book call +41 33 971 29 12
What's nearby?
Right opposite the hotel is the renowned Rosenlaui Glacier Gorge, a UNESCO World Heritage Site. A walkway allows you to watch this raging torrent at close quarters. It is an exhilarating experience.
Close to the hotel is the celebrated Reichenbach Falls. This awe-inspiring cataract is the location of the fatal clash between Sherlock Holmes and Moriarty. It is still visited by thousands of Sherlock fans every year.